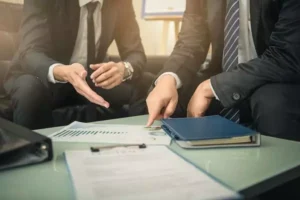 Dissolving an international business from a different country requires careful consideration of your business's legal, financial, and operational position and the business regulations of the country where you are operating. The process can also vary depending on your business entity's bylaws or operating agreement, the laws of your home country, and the foreign jurisdiction where your business operates.
Dissolving an international business can be complex, but with the help of a good business law attorney, it can be done efficiently and correctly. The BrewerLong team can help. While specific requirements will differ based on individual circumstances, in this blog post, the attorneys at BrewerLong provide a general guide on how to dissolve an international business from another country. Reach out to us to speak with a Florida business lawyer.
Review Legal and Regulatory Requirements
Start by thoroughly reviewing the legal and regulatory requirements for dissolving a business in both the home country and the foreign country. Familiarize yourself with the laws governing business dissolution, including the specific procedures or documentation required by each jurisdiction. Reviewing the company's organizational documents can also help guide this process. A business law attorney can help you navigate these requirements.
Consult with Legal and Tax Professionals
Given the complexities involved, seek guidance from legal and tax professionals experienced in international business law. They can provide valuable advice on the dissolution process, ensure compliance with local laws, and help navigate potential challenges. These professionals can help ensure that the process goes smoothly, and they can help maximize tax and legal efficiency so you can dissolve your business in a way that best achieves your goals.
Develop a Dissolution Plan
Create a detailed dissolution plan that outlines the steps and timeline for winding down the company. Often, your business's organizing documents or bylaws will contain certain guidelines for what to do in the event of dissolution. Consider factors like financial obligations, contract terminations, employee redundancies, asset disposition, and tax implications. Clearly define responsibilities and designate individuals or teams to handle specific tasks during the dissolution process. Regularly review and update the plan as necessary. Local lawyers can help advise on specific areas of law, like employment law.
Notify Stakeholders
A tricky aspect of dissolving an international business is the need to notify interested parties about the dissolution of the company. Stakeholders, including partners, shareholders, employees, customers, and suppliers, will want to know about the impending change. This will also include completing any final regulatory filings. Be sure to provide clear and timely communication regarding the reasons for dissolution, the expected dissolution timeline, and the expected impact on ongoing operations. Comply with any legal or contractual obligations regarding notification, such as minimum notice periods or specific disclosure requirements. The BrewerLong team can advise or help direct you to relevant international resources.
Settle Financial Obligations
Ensure that all financial obligations are settled before dissolving the business. This includes paying outstanding debts, taxes, and employee severance packages in accordance with local laws and contracts. Close the business's bank accounts and credit lines, settle vendor accounts, and terminate leases or rental agreements. Engage with professional accountants or financial advisors to ensure compliance with local financial regulations and handle any foreign exchange matters.
Comply with Legal and Regulatory Procedures
Follow the legal and regulatory procedures required by both the home country and the foreign country. This may involve filing dissolution documents with relevant government agencies, such as the business registrar or chamber of commerce. This will often differ from the U.S., where you would file with a Secretary of State. A qualified international business lawyer can help you understand the specific requirements and timelines for dissolution in each jurisdiction. If you do not know where to turn, BrewerLong may be able to help. Speak with a Florida business attorney today!
Liquidate Assets and Discontinue Operations
Liquidate assets, including inventory, equipment, and property, as necessary. Comply with local laws and regulations regarding asset disposal, and consider engaging professional appraisers or auctioneers to facilitate the process. Wind down operations systematically, terminate contracts and agreements, and close business premises. Maintain proper records of all activities related to asset liquidation and the discontinuation of operations for accounting and tax purposes.
Fulfill Tax and Reporting Obligations
Ensure compliance with tax and reporting obligations in both the home country and the foreign country. File all necessary tax returns and reports, including final tax returns, VAT returns where applicable, and payroll-related filings. Pay any outstanding taxes owed, and obtain the relevant tax clearance certificates or documentation required for dissolution. Engage tax professionals to navigate the complex tax implications of international business dissolution.
Speak with a BrewerLong Business Attorney Today
Dissolving an international business from another country requires careful planning, compliance with regulatory procedures, and an understanding of the legal landscape in multiple jurisdictions. At BrewerLong, we work to provide Florida businesses with clear guidance in complex, cross-border legal situations. We place a strong emphasis on personal attention and meaningful communication with each one of our clients. Whether you run a small business with few international outposts or your firm is a multinational corporation managing a complex network of storefronts and contracts, BrewerLong is equipped to meet your needs. Reach out to us today.
The BrewerLong Difference
At BrewerLong, we aim to provide Florida businesses with clear guidance as they maneuver through complex legal and business situations. We emphasize personal attention to and meaningful communication with each one of our clients. We want to understand what you do, why you do it, and how we can best help your business at your growth stage. Whether you're a first-time entrepreneur or an experienced executive running a complex company, BrewerLong is ready to meet your business's legal needs. Reach out to us online to start.
This blog post is provided on an "as is" and "as available" basis as of the date of publication. We disclaim any duty to update or correct any information contained in this blog post, including errors, even if we are notified about them. To the fullest extent permitted by law, we disclaim all representations or warranties of any kind, express or implied with respect to the information contained in this blog post, including, but not limited to, warranties of merchantability, fitness for a particular purpose, title, non-infringement, accuracy, completeness, and timeliness. We will not be liable for damages of any kind arising from or in connection with your use of or reliance on this blog post, including, but not limited to, direct, indirect, incidental, consequential, and punitive damages. You agree to use this blog post at your own risk. Regarding your particular circumstances, we recommend that you consult your own legal counsel–hopefully BrewerLong.